MCR Defiant. Charity Art Print
Author: Tommy Morrison | 11.08.2017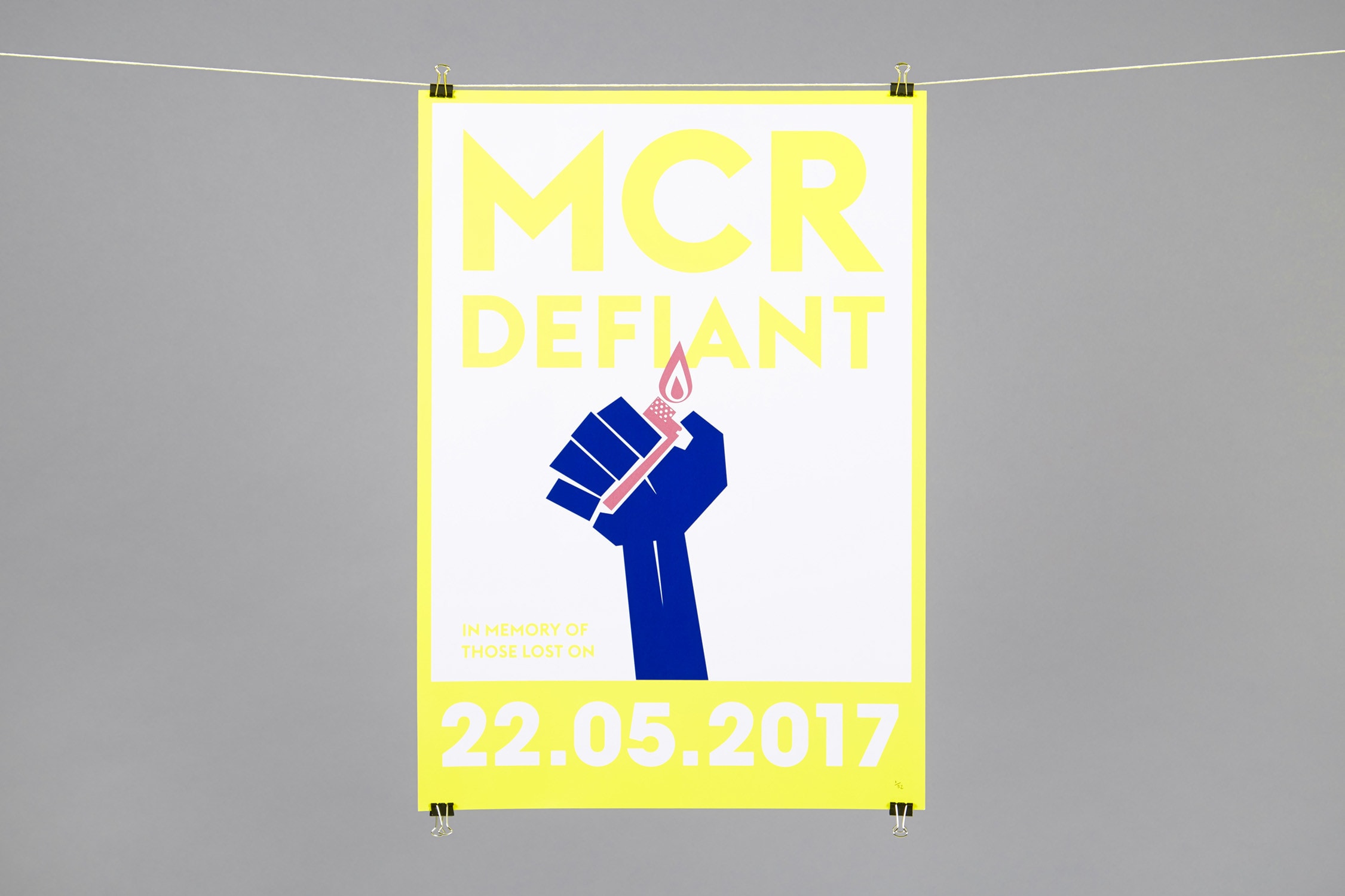 Having a small baby, we were already awake late into the evening/night of the 22nd May 2017. The first reports were very patchy and confusing. Some saying that the loud noises could simply be equipment falling over but a sense of 'something not quite right' was definitely present. As reports unfolded over the night and the next day the horrible truth emerged.
Although all such acts of violence – in all parts of the world – are deplorable, this one struck a chord with me. I am from Manchester and much of my youth was spent in music venues, including the (then MEN) Arena. I have enjoyed many gigs there and plan to return in the future.
Feeling helpless, as we so often do in these situations, I began to think about a way we could offer something to the people who were suffering most directly. I also felt that the city and the country reacted in the best way possible and I think that sentiment inspired this piece as much as anything. Trying to capture the feeling of defiance in the face of such indiscriminate cruelty was a tough creative challenge.
I'm pleased with the print as an emotional response, and I am proud to say that we have raised £319.50, which has just been donated to The Manchester Emergency Fund, managed by The Red Cross. A modest amount amongst much larger organised efforts such as the One Love concert, but we are pleased to feel that we have helped in a small way and would like to give massive thanks to everyone who supported us and bought a print.
Massive thanks to
GF Smith
Mission Print
Everyone who bought a print
There are still prints available Here on The Wilderness Press if you would like to purchase one.
We will now be donating all future money raised to The Red Cross (instead of the specific Manchester fund) because they do such great work for all kinds of emergencies all over the world.